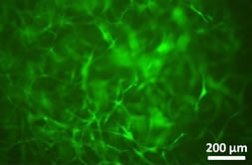 Viability image of live human stem cells (green) seeded on a nano-structured scaffold.
There is clear scope for biomaterials and tissue engineering as a future treatment for osteoarthritis.
Advanced biomaterials can provide physical support for engineered tissues as well as powerful topographical and chemical cues to guide cells seeded in the tissue. Nanostructured polymer and peptide scaffolds and injectable gels can support cartilage regeneration, while composite materials can support osteochondral regeneration. We will create tissue-engineered constructs and translate them from in vitro to in vivo and develop cell therapy combined with biomaterials.
The aim of this area is to engineer minimally-invasively implantable nanostructured material scaffolds and cells for regeneration of tissues damaged by osteoarthritis.
Research team
Professor Molly Stevens
Objective leader
Molly Stevens is currently Professor of Biomedical Materials and Regenerative Medicine and the Research Director for Biomedical Material Sciences in the Institute of Biomedical Engineering read more...
Doctor Helene Autefage
See also: