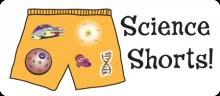 Nanotechnology for Renewable Energy K-12 Outreach
The Nanotechnology for Renewable energy (#EPS-90903806) project is part of the NSF EPSCoR Phase VI: Climate Change and Energy grant. The goal of the K-12 outreach is to communicate core ideas and concepts related to nanoscale and energy, and includes four components.
(1) Incorporated nanoscale ideas into the existing KU Natural History Museum program about size and scale (How Small is Small?), which included the creation of a large graphic that summarizes small divisions at microscale and below, and supplemental nanoscale elements were integrated into existing activities (e.g. calculating height at nm);
(2) Front-end evaluation in the form of a comprehensive literature review including an overview of energy education, and relevant learning research related to teaching this topic and youth's ideas and understanding of energy concepts.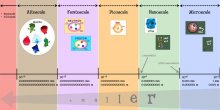 Cartoon Guide to Energy (outlined below);
(3) Developed the new Cartoon Guide to Energy program that integrates fundamental concepts of forces, properties or matter and energy into unified framework to explain energy across different contexts, using classic animation scenarios to engage learners; and
(4) Created a nanoscale resource page on the Quarked! website to bring together existing nanoscale related resources, organizations and activities that are available for learners and educators; expanded the glossary and FAQs to include nanoscale and energy terms; and developed additional online material such as a Photon Invaders solar panel game and energy quiz, as well as a new series of short animated videos about solar energy and electricity (Science Shorts).
See also: