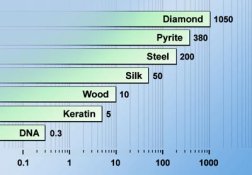 Nanomaterials (2)
Beef or Horn?
As every mechanical engineer knows, the stiffness of a material — its elastic modulus — is often a critical property; likewise in nanomechanical engineering, though in part for a different reason. I'd like to say a few words about this, then discuss some materials of interest in implementing nanosystems. And there is something I must say about beef, too.
Stiffness matters
Stiffness determines how much a component will deform in response to a force, or equivalently, how much elastic energy will be stored in the process of distorting a component into a given shape. In nanomechanical engineering, the energy is of special importance, because the probability of a distortion declines exponentially with increasing elastic energy — in other words, stiffness limits the amplitude of thermal fluctuations. (This post was getting too long, so I moved further discussion of this topic to another page: Elastic Modulii, Stiffness, and Thermal Fluctuations.
The chart below compares the (Young's) modulus of some very different materials.
Young's Modulus (in GPa) of Selected Materials
(various sources)
Toward advanced nanosystems
The range of modulus values for structural proteins is like that of engineering polymers: Some are like rubber; many are like epoxy, polystyrene, or polycarbonate; and silks can rival Kevlar.
DNA, although valuable as a medium for design and fabrication of large, atomically precise structures, is much softer than structural proteins.
In comparison to a typical structural protein, the stiffness of pyrite (FeS2, also known as fool's gold), rivals that of diamond. A number of metal oxides have elastic moduli that are somewhat greater than pyrite.
Finally, except for steel and diamond, all these materials are readily synthesized at low temperatures from substances dissolved in water. The same is true of several metals and semiconductors, and of many silicates and metal oxides.