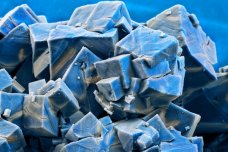 Michael Crichton was always a bit of an alarmist. In his novels, he exploited the simple concept that everyone from Bram Stoker to Alfred Hitchcock had mastered: Take something people experience every day, and make it kill them. For Stoker, it was open windows. For Hitchcock, it was roadside motels. For Crichton, it was technology.
"Jurassic Park" was about the bad things that happen when you start messing with DNA. "Airframe" was alarming because it played on the thought that goes through everyone's mind before take-off: Just how safe is this, anyway? His 2002 novel, "Prey, " was all about what can happen when nanotechnology -- microscopic computers invisible to the human eye -- goes haywire. At the time, this seemed to be Crichton at his most over-the-top. Just how big of a problem could these tiny computers really be? But "Prey" is actually turning out to be more prescient than pessimistic. It's just that the nanobots aren't swarming outside our bodies. They're attacking from the insides.
At least, that's where my head immediately went while reading the adequately scary "Eating Nano" in E Magazine. The article, which appeared in last month's issue, details exactly how nanotechnology has found its way into our food supply. Just like GMOs, their existence was meant to help out. They supposedly deliver more nutrients to our bodies, keep food fresher longer periods, even enhance taste. Which is all well and good. Except that, in regards to nanotechnology, "safety-testing" is treated in a "we'll fix it when it's broke" kind of way:
"At the moment, there is not much information available on the topic of ingested nanoparticles and human health, " says Birgit Gaiser, Ph.D., a postdoctoral research fellow at Heriot-Watt University in the UK. "Some nanoparticles are present in the human diet, for example titanium dioxide in food products and cosmetics, and silver, which is sold as a nutritional supplement. There is evidence that a small percentage of these particles, or particle components like silver ions which can be released in stomach acid, can move on from the intestinal tract into the blood, and reach other organs."
In other words, small robots that can move about your body as they please.
Among the foods most likely to have nano-tech: Foods with caramelized sugar, nutritional supplements, toothpastes, gums, M&Ms, Jello Banana Cream Pudding, Pop Tarts, Mentos, Nestle Original Coffee Creamer, and even... purified water!
One of the scariest elements of the article isn't that these pieces of nanotechnology are harmful to the human bodies. It's that no one knows if they're harmful. Testing has been nearly nonexistent. The FDA, the governing body we've put in charge to keep bad things from entering our bodies, doesn't even have a list of foods that contain nanotechnology. From an email exchange quoted in the article with an FDA rep:
E Magazine: What can you tell me about the prevalence of nanomaterials in our food supply?
Sebastian Cianci: FDA does not have a list of food products that contain nanomaterials.
E: Where are nanomaterials most often found within food products? In colorings or additives?
S.C.: FDA does not maintain a list of food products that contain nanomaterials so we cannot reliably answer this question.
Eat better by following KCET Food on Facebook, Twitter, and Tumblr.
About the Author
Rick Paulas has written plenty of things, some of them serious, many of them not, scattered over the vast expanses of the Internet. He lives in Los Angeles and is a White Sox fan.
Previous
Guest Recipe: Roasted Brussels Sprouts with Sliced Almonds and Pomegranates