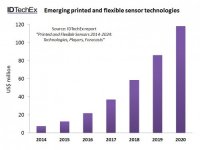 Printing sensing devices is not a novelty. For instance, many vaccines shipped across the world now have a printed temperature label which alerts medical staff if the cold chain has been broken during transport and storage. However, these labels are not electronic devices: the ink undergoes a chemical reaction and changes colour when the temperature is too high.
Electronic sensors are usually more complex and manufacturing can therefore be more challenging. There are multiple layers of materials and the devices require metal interconnects. The manufacturing technique is selected based on the material properties, cost, and the resolution. For many years, printing (and in particular screen-printing) has been used to make sensors based on specialized ceramic materials. The problem is that these sensors require a sintering process which makes them incompatible with plastic components, due to melting and deformation.
In contrast, the new sensors are based on inks that can be printed directly on plastic substrates. They offer advantages such as flexibility, thinness, light weight and, in some cases, the potential to be manufactured with roll-to-roll equipment. What it means is that these sensors will be able to go where no sensor has gone before. For example, think of curved surfaces, ultra-thin devices or shock-resistant devices.
While there are many flexible sensors still in early R&D phase, IDTechEx has identified the technologies that are emerging and now near commercialization. Those are:
• Printed gas sensors on plastic
• Printed temperature sensors
• Flexible photodetectors
• Flexible piezoelectric sensors
• Flexible digital X-ray sensors
2014 will be the year when some of these sensors will start shipping to end users. By 2020, the combined market value of the sensor modules will be worth almost $120 million.
Fig. Market forecast (at sensor module level) for emerging printed & flexible sensor technologies