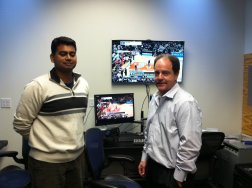 ESPN Emerging Technology At Home in New Jersey
In an office park steps away from the train station in Hamilton, NJ — a town situated between Trenton and Princeton — lives the unlikeliest of companies: ESPN. ESPN Emerging Technology, to be exact.
ESPN acquired the company formerly known as PVI (and owned by Cablevision) in 2010, changed its name to Emerging Technology, and moved its 12 staffers from Lawrenceville, NJ, to Hamilton for easier access to the NJ Transit commuter-rail line.
Since then, ESPN Emerging Technology has focused on developing and deploying virtual-graphics enhancements for every property televised by its parent company, including football, basketball, baseball, and soccer.
"This is a group that's made up of some highly skilled computer-vision engineers, so we had traditionally done things differently, " says VP of Technology Enhancements Jay DiGiovanni. "We didn't live on instrumented cameras. We worked solely [using] algorithms.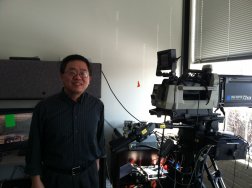 rd tier that our vision solution — which doesn't even need to be done on-site, can be done from the broadcast center — made a lot of sense [as] a very cost-effective way to enhance a game."
The Hamilton remote office is one of three Emerging Technology groups under the ESPN umbrella. The Bristol, CT, group — the largest of the three — handles onscreen overlay graphics (including score bugs and studio shows), and the Florida group — located at the ESPN Wide World of Sports complex — handles research and development.
DiGiovanni's group consists of 12 employees — "with the largest concentration of PhDs in ESPN, " he quips — who handle research, development, validation, and deployment of tools to create virtual first-down lines, shot clocks, advertisements, and more.
Because of ESPN's multitude of sports properties requiring on-field virtual enhancements, the Hamilton team worked to create scalable solutions that can be controlled from the studio or truck or implemented directly on the cameras themselves. Chief Emerging Technology Engineer Ximin Gong creates the algorithms that allow ESPN to draw information directly from calibrated cameras and broadcast onscreen continuously, even when the camera needs to pan, tilt, zoom, or focus.
"The key is, how do you do it efficiently and fast?" says Gong. "Because you expect the operator to be there running multiple cameras, they need to finish it in a very short time window. So the calibration process needs to be efficient and quick."