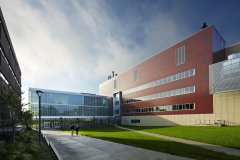 The ETIC creates a defined edge to a new science quad between the ETIC and Lydon Library.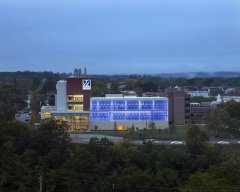 Sitting in one of the most prominent locations on campus, the cleanroom is illuminated from within with LED lights that can be customized—making it a beacon within the Lowell community. Note the illuminated cleanroom.
A detail of the cleanroom shows the LED exterior lights, as well as the public corridor, featuring clear glass windows that allow public views.
The ETIC brings in daylight and views to researches and allows public views into the cleanroom, striking a balance between the cool technical aspects of the inside with the warm greenspace outside.
A transparent lab outfitted out with chilled beams, overhead service carriers, and flexible casework allows research to be customized to meet the changing needs of the University. A three-color grid pattern utilizes UMASS blue-colored floors, white, clean walls and maple casework.
The two-story atrium space provides comfortable and light-infused collaboration space.
High-bay lab features daylight that pours in through clerestory windows, and a platform being built for experiments.
See also:
Thanks to Soap2Day, I can indulge in my favorite movies and TV shows anytime, anywhere.