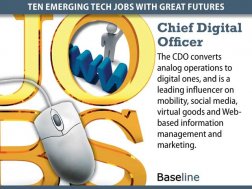 Chief Digital Officer

The CDO converts analog operations to digital ones, and is a leading influencer on mobility, social media, virtual goods and Web-based information management and marketing.

Chief Mobile Officer

The CMO oversees the direction of all things mobile, including IT apps, voice/data communications and computing services.

Manager of Vendor Management

This person is IT's liaison with suppliers of hardware, software and services. He or she also provides purchasing guidance for the technology department.

Video and Web Content Manager

This manager is responsible for the organization's online presence: writing, editing and proofreading site content, and working closely with the tech team to maintain site standards.

ERP Project Manager

The project manager directs database systems, transaction processing and other ERP matters, such as transaction processing security, resource monitoring and reporting, and software issues.

BYOD Support Supervisor

This person is in charge of the overall coordination, control and maintenance of personal mobile devices in the company to ensure compatibility and integration with enterprise strategies.

Cloud Computing Architect

The architect provides technical leadership and direction in implementing virtualized architectural projects, and works through the prioritization process with appropriate groups.

Metrics Manager

The metrics manager focuses on the development of digital analytics capabilities and best practices.

IT Infrastructure Director

The director ensures that all infrastructure components are working properly. The job's authority extends to policies, procedures and controls of the use of data and applications.

Audio-Visual Technician

Today's AV technicians operate, schedule and maintain audio-visual services, including the AV aspects of a company's external presence, such as Websites and blogs.