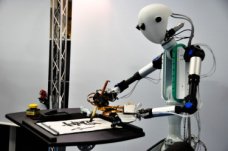 SIGGRAPH 2012 Emerging Technologies provides attendees an exclusive hands-on opportunity to interact with the newest developments in multiple fields including 3D displays, robotics, interactive input devices, and more.
, 5-9 August at the Los Angeles Convention Center, welcomes 26 of the latest innovations selected by a jury of industry experts from 99 submissions. Countries represented include Japan, Hungary, Canada, Singapore, South Korea, United States, and China.
"Emerging Technologies demos allow attendees to directly experience novel systems. They provide a forum for presenters to showcase technology innovations and new interaction paradigms, " said Preston Smith, SIGGRAPH 2012 Emerging Technologies Chair from Laureate Institute for Brain Research. "Each one has an interactive component that is best experienced in person and involves either new technology or a novel use of existing technology. In many cases, these technologies won't be seen by the general public for another three to five years and are right out of a research lab."
Featured highlights from SIGGRAPH 2012 Emerging Technologies:
TELESAR V: TELExistence Surrogate Anthropomorphic Robot
Charith Lasantha Fernando, Masahiro Furukawa, Tadatoshi Kurogi, Kyo Hirota, Katsunari Sato, Kouta Minamizawa, and Susumu Tachi, Keio University, Graduate School of Media Design; Sho Kamuro, The University of Tokyo
TELESAR V enables a user to bind with a dexterous robot and experience what that robot can feel with its fingertips when manipulating and touching objects remotely.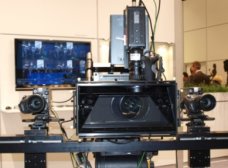 Chair Feedback: "Historically, robots have always been a popular Emerging Technologies attraction. This trend continues with the intriguing robotic presence of TELESAR V, a fifth generation robot that gives the user both the control of the robot and the experience that the robot is going through. Imagine being able to remotely perform some task, but also being able to feel the task that is being performed. The future applications are endless in the entertainment, science, or medical fields."
3D Capturing Using Multi-Camera Rigs, Real-Time Depth Estimation, and Depth-Based Content Creation for Multi-View and Light-Field Auto-Stereoscopic Displays
Peter Tamas Kovacs, Holografika Kft., and Ferederik Zilly, Fraunhofer Heinrich-Hertz Institut
This futuristic system captures live HD footage with a wide-baseline multi-camera rig and estimates the depth map of the captured video streams based on which content is generated and presented on auto-stereoscopic 3D displays.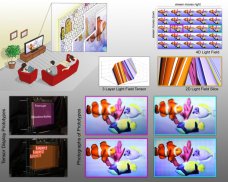 : "Prepare to see something big this year at Emerging Technologies. We have a two-fold exhibit with an innovative camera rig for 3D capture, along with the largest (to date) auto-stereoscopic light-field 3D display! The presentation of this new rigging system is exciting enough, but you have to be able to experience this technology to fully appreciate it. Then witness the display of this amazing output on the impressive 140" (diagonal screen) glasses-free multi-view and light-field auto-stereoscopic 3D display. That is something to you really have to experience in person!"
Tensor Displays
Matthew Hirsch, Douglas Lanman, Gordon Wetzstein, and Ramesh Raskar, MIT Media Lab
This new light-field-display technology system uses stacks of time-multiplexed, attenuating layers illuminated by uniform or directional backlighting optimized with non-negative tensor factorization. Tensor displays achieve greater depths of field, wider fields of view, and thinner enclosures compared to prior auto-multiscopic displays.
Chair Feedback: "'Auto-multiscopic displays' is certainly a mouthful. But saying '3D without glasses' is well understood by all. Tensor displays are an exciting display technology and is the next logical step in our ever-growing home theater experiences. It allows the user to have a 3D experience via the display but without the assistance of glasses or other such wearable devices."
Gosen: A Handwritten Notation Interface for Musical Performance and Learning Music
Tetsuaki Baba, Tokyo Metropolitan University; Yuya Kikukawa, Toshiki Yoshiike, Tatsuhiko Suzuki, Rika Shoji, and Kumiko Kushiyama, Graduate School of Design, Tokyo Metropolitan University
Since the 1960s, Optical Music Recognition (OMR) has matured for printed scores, but research on handwritten notation and interactive OMR has been limited. By combining notation with performance, Gosen makes music more intuitive and accessible.
See also: