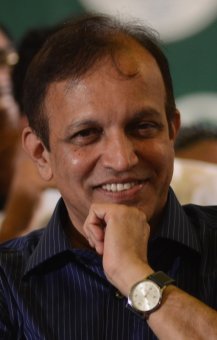 Satish Ogale's Editor's choice: Nanomaterials and Functional Carbon for Energy Applications
's newest Advisory Board member, Dr Satishchandra Ogale, has chosen a selection of excellent articles in the areas of nanomaterials and functional carbon for energy applications, which were recently published in Energy & Environmental Science (EES). You can read these articles for free for a limited period by clicking on the links below.
We are delighted that Dr Ogale has recently joined the Advisory Board of EES. He is a Chief Scientist and Coordinator at the Centre of Excellence in Solar Energy at CSIR-NCL, Pune, India. His research focusses on dye sensitized and hybrid solar cells, solar water splitting for hydrogen generation and functional carbon nanocomposites for energy.
On behalf of Satish Ogale and the Editor-in-Chief Nathan Lewis (Caltech) we invite you to submit your best research to Energy & Environmental Science.
EES publishes outstanding, community-spanning, agenda-setting research covering all aspects of energy and environmental research. With an Impact Factor of 11.65, which is rising fast, it the ideal place to publish your work.