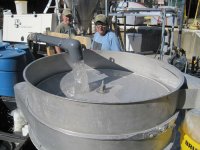 Chemical engineer Paul Edmiston demonstrated Osorb®, a revolutionary new type of material that can clean water from oil spills, detect explosives and even treat the subsurface of Superfund sites, during a webcast hosted by NSF last year. Pictured are Dr. Stephen Jolly and Doug Martin of ABSMaterials showing clean water being passed over a vibratory separator after treatment with Osorb. Credit: Sarah Pollock, ABSMaterials
Science is full of surprises. Chemist Paul Edmiston's search for a new way to detect explosives at airports instead led to the creation of what's now called "Osorb, " swellable, organically-modified silica, or glass, capable of absorbing oil and other contaminants from water.
Edmiston was working on nano-engineered glass for explosives detection. His lab is composed of exclusively undergraduate students who were testing various methods of preparation at the time. During testing, one of the formulations instantaneously grew in size. That formulation became the first identified member of a now larger group of swellable silica-based materials.
This video is not supported by your browser at this time.
Credit: NSF
"This is a good example of the value of basic scientific research, which is being conducted at undergraduate institutions across the nation, " notes Edmiston.
Osorb is now the principal product of a company in Wooster called ABSMaterials, and Edmiston became the company's chief scientist. With support from the National Science Foundation (NSF), Edmiston and his colleagues at ABSMaterials are developing water remediation technologies for cities and industries—targeting everything from storm water to agricultural runoff.
"We made the decision to provide funding to ABSMaterials because of the potential for Osorb to have far-reaching impacts in enabling water purification. The project brings together a world-class technical team, led by Paul Edmiston, and a very exciting new material innovation, " says Ben Schrag, program director in the division of industrial innovation and partnerships, within NSF's Directorate for Engineering.
Edmiston's introduction to ABSMaterials CEO Stephen Spoonamore was also serendipitous. Spoonamore knew about Edmiston's research, and when he spotted the professor on a plane, the CEO traded seats so they could talk. Their scientific and business association "took off" from there.
"I'd been asked to look at the challenges associated with the U.S. military working in remote locations. The biggest problem is not bullets. It's not bugs, guns or mines. It's water. How do you get enough water when you're out there alone? I had looked at the problem of contamination and didn't know of any good solutions, " recalls Spoonamore.
See also: