US News: Tech Among Top Universities
Michigan Tech continues to rank among the top tier of universities in the US News & World Report college rankings. In addition, three of the university's undergraduate engineering programs ranked among the top 25 in the country and four graduate programs have ranked among the best in the country.
Among undergraduate programs, environmental engineering ranked 16th, materials science and engineering was 18th, and mechanical engineering was 25th. Michigan Tech's graduate programs enrolled a record 801 students during 2003-04 and attracted more than $30 million in research funding.
Researchers Help Sequence First Tree Genome
A team of Michigan Tech researchers has played a key role in an international effort to sequence the first tree genome. They were part of a consortium that has deciphered the genetic code of the black cottonwood.
Chung-Jui Tsai, director of Michigan Tech's Biotechnology Research Center and an associate professor of forest resources and environmental science, led the effort. Using gene amplification technology, Tsai's team fished out more than 13, 000 gene fragments known as expressed sequence tags, or ESTs, that are represented throughout cottonwood's 480 million letters of genetic code.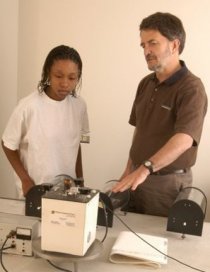 ers, now placed in order by the international research effort, are about 40, 000 genes, which underlie all aspects of the tree's growth and behavior.
NSF's $800, 000 Funds Electrical Engineering Projects
Assistant Professor Seyed "Reza" Zekavat, of Michigan Tech's Department of Electrical and Computer Engineering, has received two National Science Foundation grants totaling more than $800, 000.
With a $350, 000 grant, he aims to conduct fundamental research on wireless local positioning systems. With a $462, 000 award, he will develop a new multidisciplinary version of the traditional course, "Introduction to Electrical Engineering for Non-Electrical Engineers."
The wireless local positioning systems project will support a new lab and three graduate students and will involve about 15 undergraduates.
Biotech Researchers Receive $2.1 Million
Michigan Tech researchers have been awarded a $2.1 million grant to study a critical mechanism for trees' survival. Associate Professor Chung-Jui Tsai (School of Forestry and Environmental Science) will investigate the genetic underpinnings of phenolic glycoside production and how it relates to plant growth. This family of compounds plays a key role in plant health, making many plants tough and disease-resistant.