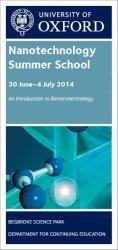 Overview
This one-day course is part of the Nanotechnology Summer School 2014 on nanotechnologies in biology. It can be taken individually or as part of the one-week Summer School.
The programme for the Nanoparticles, Nanostructures and Biomimetics course provides an introduction to nanoparticles and their applications, as well as biomimetics. It includes the following topics:
Natural and incidental nanoparticles
Engineered nanoparticles and their syntheses
Applications of nanoparticles
Biologically inspired nanostructures - introduction to biomimetics
Biomimetics of photonic nanostructures
Hydrophobic coatings and their applications
Spider silk and novel bio-inspired synthetic polymers.
Dr Christiane Norenberg
Role: Director
Christiane is the Nanotechnology HEIF Manager at the University of Oxford's Begbroke Science Park. She received her DPhil in Materials Science
from the University of Oxford in 1998 and continued with postdoctoral research. In 2001, Christiane was awarded the Royal Society Dorothy Hodgkin Fellowship for her work on the growth and characterisation of nanostructures on semiconductor surfaces. After a period as a lecturer at the Multidisciplinary Nanotechnology Centre at Swansea University, Christiane returned to Oxford in 2007 to take up her present post.
Her interests and expertise are in the areas of surface science, growth and characterisation of nanostructures on surfaces, and nanotechnology in general. Christiane also teaches nanoscience and materials science at undergraduate and postgraduate level.
Professor Peter J Dobson OBE
Role: Presenter
Professor Dobson was the Academic Director at Begbroke Science Park. After a career as a lecturer in Physics at Imperial College and Senior