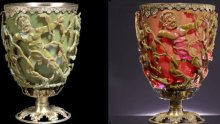 September 9th, 2013 | by Brittany M. Garcia
The Lycurgus Cup is a Roman glass cage cup, or diatretum, made of dichroic glass. This means that the properties of the glass allow it to change color depending on which angle light is shown through. If lit from behind the glass turns red and if lit form the front it turns green. The cup depicts the ancient Greek myth of the Thracian King Lycurgus. Lycurgus was fated a horrible death by Dionysus who cursed him for banning his religion and imprisoning his followers. There are several variation of this myth, but the reference seen on the cup (Lycurgus trapped in wine vines) is not a common variation. However, there is a satyr and a figure believed to be Dionysus (due to panther [Dionysus' patron animal] and the thyrsus [a staff with a pine cone tip carried by his followers]) who are expressing angry gestures.
The Lycurgus Cup is a rare item from history, whose use is still unknown and highly speculated. It has been thought to have been used in the rites of Bacchus (Dionysus Roman counterpart). However, this cannot be proven. Coincidentally, the Historia Augusta records the gift of two dichroic cups from Emperor Hadrian to his brother-in-law Servianus via a letter. Perhaps, this may have been one of them.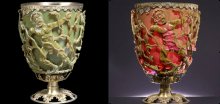 The British Museum acquired the cup in 1950′s, but it wasn't until the 1990′s that they understood its properties. Researchers analyzed broken fragments of the cup until they discovered that the Romans were nanotechnology pioneers. The glass effect of the Lycurgus Cups was achieved by making the glass with minutely ground gold and silver dust. The size of these particles of silver and gold are only about 50 nanometers across (less than one-thousandth the size of a grain of table salt) and required a transmission electron microscope to be seen. Thus, it is highly impossible that Roman artists made these minute silver-gold alloy dust particles for this size of cup; therefore, these particles must have been added in large quantities to even large amounts of glass-melts. Thus, there may have been other dichroic glass items made from the same glass-melt as the Lycurgus Cup.