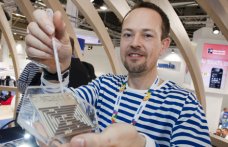 Inside video and interview at Nokia's Cambridge Superhydrophobic lab
CAMBRIDGE, United Kingdom – What happens when a drop of water falls on a lotus leaf? It's not a philosophical question, but a natural phenomenon scientists have been studying, and trying to make sense of, for hundreds of years.
The drop of water falls, bounces, and rolls away without trace – leaving the leaf clean and water repellant.
Now scientists at the Nokia Research Center in Cambridge believe they may be able to replicate the same effect on your phone, using nanotechnology.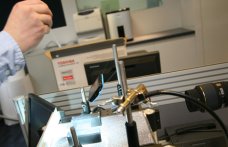 Chris Bower, the Principal Scientist at the NRC in Cambridge, sums it up:
"Like many scientists we are trying to copy what nature has been doing perfectly for thousands of years."
To achieve the water-resistant, and stain-resistant, qualities of a lotus leaf the team at NRC is in the final stages of designing a Superhydrophobic coating which would be applied to the outside of a mobile phone.
If you've ever used a Teflon non-stick frying pan you'll be familiar with ordinary hydrophobic coatings already available– but Superhydrophobic coatings add a nanostructure to trap a layer of air over the surface which ensures that a drop of water never reaches it.
Chris Bower produces two hand-held Nokia maze tiles to demonstrate the difference. First he drops water on a surface that has no coating at all: "The water spreads, like this, and coats the surface, " he says.
Then Bower makes a drop of water fall on the maze with the ordinary hydrophobic coating. As predicted, the water holds its form, and you can guide it – a bit uncertainly – around the maze.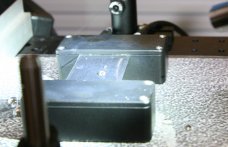 Trying the maze with the Superhydrophobic coating makes a dramatic difference: the water drops and almost bounces up again, beading tightly together – and then almost skids over the surface.
Bower explains: "A hydrophobic coating – like Teflon – has a low surface energy and a high contact angle of 120 deg, which makes water form discrete droplets on the surface."
He goes on to explain that Superhydrophobic coatings have a contact angle that can approach 180 degrees – and the liquid forms discrete drops that literally bounce off the surface:
"The difference is the nano-structured coating, trapping air at the interface, that makes sure the liquid never actually touches the surface."