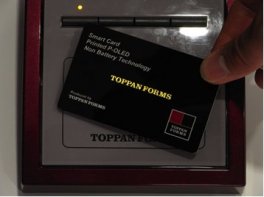 Toppan Forms, a leading information management solution provider, will start to test market product applications by combining various printed electronics technologies.
Unlike conventional electronics, printed electronics are not rigid and can be converted into different shapes and sizes. Innovative products such as a battery charger in the shape of brief case or POP displays for marketing can be customarily designed and manufactured. Test marketing will start this summer and full scale marketing is expected to start in 2011.
Card with no battery, the image being illuminated by RF from RFID reader. (Source Toppan Forms).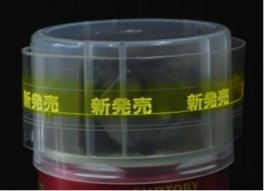 Following development of printed electronics technologies for several years in cooperation with partners such as Konarka, Add-Vision and others, the company has determined that it has reached a point where these technologies have matured enough for integration into actual products.
Flashing flexible OLED display at point of purchase POP. (Source: Toppan Forms).
Light emitting business card with images that light up sequentially. (Source: Toppan Forms).
For example, Toppan Forms, based on Konarka's organic thin film photovoltaic technology, will test market a brief case with battery charging function for electronic devices such as cellular phone.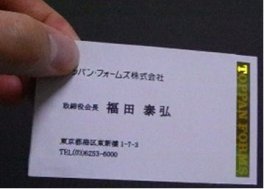 Battery charging brief case with organic flexible photovoltaic panel. (Source: Toppan Forms).
It can also function as an emergency power supply when the power runs out from electronic devices in an environment where power outlet is not available. The thinness, flexibility and variation of colors allow photovoltaics to be integrated seamlessly into different shapes. The bag will initially be test marketed to bag manufacturers and participating retailers.

Solar powered photo stand. (Source: Toppan Forms).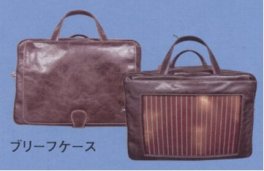 The company has also integrated organic thin film photovoltaic technology with Add-Vision's polymer organic light emitting display (P-OLED) and Toppan Forms' Audio Paper™ technology to create a new breed of Point of Purchase POP display applications. Flashing lights and sound powered by ambient indoor light will be placed on store shelves and displays starting this month to test how they contribute to the promotion of products. Like the photovoltaics, Add-Vision's P-OLED also allows seamless integration due to its thinness, flexibility, and lightweight features.