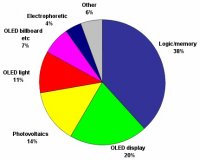 The market for printed and potentially printed electronics, including organics, inorganics and composites, will rise from $1.18 billion in 2007 to $48.2 billion in 2017. The majority of the market in 2007 - 83% - is for electronics in the following three more conventional categories:
Conductive inks (for membrane keyboards, Printed Circuit Boards (PCBs), flex connectors)
Sensors (e.g. disposable glucose sensors for those with diabetes)
Organic Light Emitting Diode displays (OLEDs) which are mostly on glass substrates and not printed as yet.
These three products will be rapidly overtaken in terms of market value as hundreds of companies develop, for example, OLEDs on flexible substrates which are printed, Thin Film Transistor Circuits (TFTCs), photovoltaics, and many other components.
IDTechEx finds that 31.6% of the electronics discussed are fully or partially printed in 2007. This rises substantially over the next ten years to 90.3% by 2017. The following chart shows the value by component in 2027.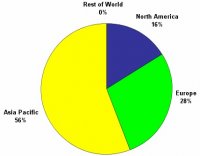 Market forecasts to 2027 - a 0 billion market
Market by territory
If we look at the market size by territory, IDTechEx find that most work is taking place in Europe, the USA and Japan. In many respects Europe is in the lead. For instance, the first printed electronics factories are appearing there. However, by spend, we see that in 2007 56% of the market spend is in East Asia. This is because the biggest component - OLED display modules - are made there and bought by companies making devices, such as MP3 players. However, it disguises the fact that many of the devices are then sold to North America and Europe.
Market by Territory 2007
Industries collaborating as never before
Key elements of device production are the manufacturing technique, substrate and material deposited. Changing one of these affects the other two. As all three are in constant development, the testing and development procedures can be lengthy. It also requires different sorts of expertise, and we note that few companies are risking the expense to do it all themselves, but rather close alliances have emerged between material, chemical, printing, plastics, paper and electronics companies who are co-developing certain aspects. These industries are learning to talk to each other, as shown below.
Sectors for printed and thin film electronics
The end point for most applications is for the creation of disposable devices on low cost flexible substrates, the most difficult combination to achieve while retaining yield, lifetime and manufacturing ease, but opening up the largest markets.