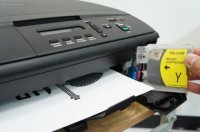 Over the past decade, major advances in additive printing technologies in the 2-D and 3-D electronics fabrication space have accelerated additive processing—printing in particular—into the mainstream for the fabrication of low-cost, conformal, and environmentally friendly electronic components and systems. Printed electronics technology is opening an entirely new world of simple and rapid fabrication to hobbyists, research labs, and even commercial electronics manufacturers.
Historically, PCBs and ICs have been fabricated using subtractive processing techniques such as photolithography and mechanical milling. These traditional techniques are costly and time-consuming. They produce large amounts of material and chemical waste and they are also difficult to perform on a small scale for rapid prototyping and experimentation.
To overcome the limitations of subtractive fabrication, over the past decade the ATHENA group at the Georgia Institute of Technology (Georgia Tech) has been developing an innovative inkjet-printing platform that can print complex, vertical ICs directly from a desktop inkjet printer.
To convert a standard desktop inkjet printer into an electronics fabrication platform, custom electronic inks developed by Georgia Tech replace the standard photo inks that are ejected out of the printer's piezoelectric nozzles. Inks for depositing conductors, insulators/dielectrics, and sensors have all been developed. These inks can print not only single-layer flexible PCBs, but they can also print complex, vertically integrated electronic structures (e.g., multilayer wiring with interlayer vias, parallel-plate capacitors, batteries, and sensing topologies to sense gas, temperature, humidity, and touch).