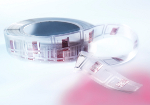 The term "printed electronics" includes all options, the production of active and passive electronic components and systems that are feasible with the "platform technology printed electronics" of PolyIC. Therefor novel materials are used that have semiconducting, conducting or other electrically active properties and can be printed in a roll-to-roll process.
Internationally for "printed electronics" and various other terms are recorded such as "organic electronics", "organic & large area electronics - OLAE" or "flexible, organic and large area electronics - FOLAE". Further descriptions and general applications and roadmaps can be found at the OE-A.
When various components of the printed electronics are combined in a system it is also referred to as "Smart Objects".
PolyIC works in this range on the following applications
In case you have any questions regarding printed electronics please do not hesitate contacting our team via info@remove-this.polyic.com.