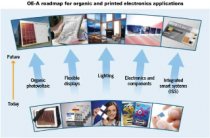 January 16, 2012 — The Organic Electronics Association, a working group within VDMA, released its "OE-A Roadmap for Organic and Printed Electronics, " 4th edition, December 2011 for download. The roadmap covers organic/printed electronics application clusters such as flexible displays and smart systems, as well as the outlook on materials, substrates, and patterning processes.
The roadmap details product generations with their key applications and technology parameters. It also identifies principle challenges.
The OE-A roadmap application clusters:
Supply chain technologies:
Functional materials
Patterning processes
Substrates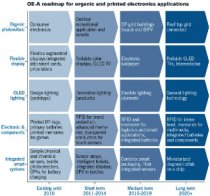 The last edition of the OE-A roadmap was published in 2009. Today, organic and printed electronics are entering the mass market. "Exciting technical progress" has been made since the 2009 edition. Taking these factors into account, the 2011 edition was streamlined by grouping related application areas with commercial appeal. The Organic Electronics Association believes that the industry must develop "a common opinion about what kind of products, processes and materials will be available and when." Challenges must be approached from every aspect of the organic/printed electronics value chain.