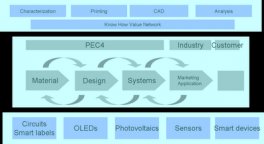 The Value Chain
The Value Chain of printed electronics includes many different steps. Starting with the materials, their synthesis and characterization, the design of devices and systems, their manufacturing and testing, their incorporation into applications and so on. Including so different steps and technologies also a variety of industries plays a fundamental role in the chain.
Starting from the chemical industry, mechanical engineering, the printing industry, electrical engineering, packaging and consumer goods and systems engineering and other industries so far not thought about will profit from its progress and create new value.
The Added Value Net
In the value chain it seems that printed electronics is a linear process. Inherent to its multidisciplinary and its disruptive character the development process can not be really linear. There are feedbacks and double loop feedbacks between the different steps. A simplified scheme can be seen above. Covering all important steps the PEC4 cluster`s approach is using the nonlinearity by its speed and its communication.