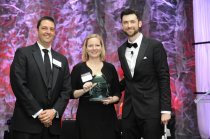 BidPal also wins Mobile Technology Excellence & Innovation Award
INDIANAPOLIS, April 22, 2013 – BidPal, Inc., was named Emerging Technology Company of the Year and won the Mobile Technology Excellence & Innovation Award at this weekend's prestigious TechPoint Mira Awards gala. BidPal was the only company to win more than one award.
TechPoint, Indiana's technology growth initiative, recognized BidPal as one of Indiana's high-tech success stories during its annual Mira Awards gala presented by BKD CPAs & Advisors at the JW Marriott in downtown Indianapolis on April 20. Now in its 14th year, the TechPoint Mira Awards celebrate the most innovative and successful technologies and technology companies, as well as entrepreneurs and educators.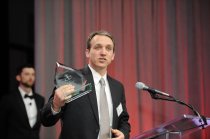 "It's the Oscars for technology. It's the biggest stage for technology in the state, " said TechPoint CEO Michael Langellier. "The Mira Awards had a record 91 finalists this year chosen by an expert panel of 39 judges."
BidPal was chosen as Emerging Technology Company of the Year "because of the results it delivers to its [nonprofit] clients, helping them significantly increase fundraising and ultimately 'cause' outcomes. The judges also believe BidPal has a very sound growth strategy that is bearing positive results, " TechPoint stated in a press release.
BidPal won the Mobile Technology Excellence & Innovation Award "for its ability to create high-density area networks that handle the massive amounts of congestion that can happen when, for example, 1, 000 people are using mobile devices to [bid] at the same time. BidPal has not only improved the very laborious process of producing charitable auctions, but they have 'gamified' it using mobile technology and doubled the financial impact for their customers, " explained Mira Awards judges.
"We are extremely honored to be recognized by TechPoint not only for our dedication to helping nonprofits use technology, but for our innovation in mobile technology as well, " said BidPal Chairman and CEO Scott Webber. "Innovation defines BidPal and we're proud to be recognized for it alongside an elite group of Indiana technology companies."