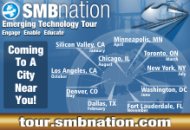 SMB Nation is very excited about the opportunity to bring events to you in 2014! Here's a look at what the Emerging Technology Tour is all about:
What you get?
Hands-on deep dive into the changes and "gotchas" in Exchange 2013.
Four-hour deep dive into Powershell and its uses to replace the wizards that will no longer be available in Microsoft server products.
PowerShell Instructions on automating many of your day to day processes and a disk of tools and resources.
Learn SOPs Standard Operating Procedures that will instantly increase your profits with Karl Palachuk.
Agenda
About our Presenters:
Jason Yoder (MCT, MCSE, MCITP) is a Microsoft Certified Trainer and PowerShell enthusiast who delivers classes across the United States in Windows PowerShell, Server and Client.
Karl Palachuk is a frequent trainer and speaker in the SMB Community. His popular blog can be found at SmallBizThoughts.Com. He has a Bachelor's Degree from Gonzaga University and a Master's Degree and Ph.D Candidacy Degree from The University of Michigan. He has many Microsoft certifications and has more than twenty years' experience as an I.T. professional.
Dave Shackelford loves an interesting AD or Exchange problem, and considers the opportunity to teach on those subjects a special treat. He is an MCSE, MCT, and was an Exchange MVP for eight years. Seen mostly near Seattle and sometimes in SoCal, Dave mentors and assists other consultants and IT Pros with their Exchange deployments, migrations and troubleshooting.
For more information, please visit
This is a $999.00 value for only $199.00. For our first event, Sponsor D&H has graciously offered to cover the ticket price for the first 100 registrants! Use the code DandHTicket2014 when registering for the Silicon Valley event on January 31!