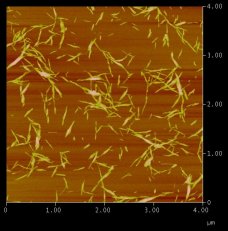 2. Cellulose nanofibers
As stated in the Introduction part, cellulosic nanoelements are mainly divided into two main families, which are the CNW and MFC. We will thus present these nanofibers in terms of preparation and morphological properties, with an emphasis on MFC.
2.1. Cellulose Nanowhiskers (CNW)
CNW, also called cellulose nanocrystals, are usually isolated from cellulose fibers through an acid treatment. This simple process involves an acid hydrolysis of the biomass using concentrated sulfuric acid (H2SO4), which removes disordered or paracrystalline regions of cellulose and leaves crystalline regions intact. After this treatment, cellulose nanocrystals with a rod-like morphology are produced. The geometrical dimensions of these nanoparticles depend on the starting cellulose source, resulting in CNW with widths in the nanometer scale and lengths from nanometer to micrometer scale. An example of CNW isolated from Microcrystalline Cellulose is presented in .
Figure 1.
AFM image of CNW
2.2. Microfibrillated Cellulose (MFC)
As compared with CNW, MFC consists of long, flexible and entangled cellulose nanofibers. MFC can be prepared from different raw materials and preparation processes, the characteristics of the resulting nanofibers being dependant on these two parameters. Wood constitutes the most important source of cellulose nanofibers, however research on other potentially suitable cellulose-based materials is in progress, especially in developing countries where agricultural wastes are underutilized. For this reason, cellulose sources coming from agricultural by-products have already successfully been tested for the production of MFC, such as wheat straw, sugar beat pulp, potato pulp or bagasse.