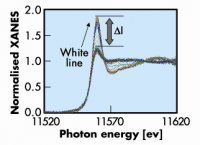 Supported precious metals are used to facilitate many industrial catalytic processes. Platinum (Pt) in particular is used for the cleaning up of vehicle exhaust emissions. When the vehicle exhaust catalyst is exposed to high temperatures (~800°C and above), the highly dispersed metal nanoparticles agglomerate and sinter, decreasing the active surface area, which causes a loss of catalytic activity (i.e. deactivation). Exhaust gases exiting from gasoline engines change quickly during operation. Temperatures can rise transiently to around 1000°C and the exhaust gas composition itself fluctuates quickly between oxidative and reductive compositions. Hence, in situ dynamic observation on the sintering and redispersion phenomena of the precious metal in the automotive catalysts is very important indeed.
Real-time observation of the sintering/redispersion behaviour of Pt was made possible by the fluorescence yield variant (Turbo-XAS) of energy dispersive XAFS developed by Pascarelli et al. at ID24 [1]. An in situ cell optimised for fluorescence detection was designed for this experiment [2]. Fluorescence yield Turbo-XAS data collected at the Pt LIII edge on 2 wt% Pt/Ce-Zr-Y mixed oxide (referred to as CZY) catalysts under in situ conditions are shown in Figure 119. The signal to noise ratio on this data is improved with respect to our previous transmission XAS study on Pt/CZY, which showed that the combination of low levels of Pt in the catalysts, with high levels of heavy, absorbing, elements such as Ce and Zr severely compromises the conventional, transmission based experiments, making quantitative analysis very difficult [3].
Fig. 119: Serial time-resolved Pt LIII edge XANES spectra (6 seconds each) of 2 wt% Pt/CZY catalyst under cyclical oxidising/reducing. Variation in the first hundred spectra under oxidising/reducing atmosphere at around 400ºC.