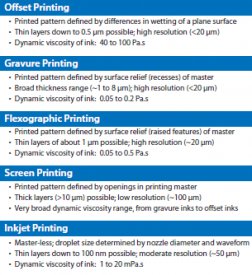 Introduction
In the past decade, the family of digital printing technologies has evolved from being just a tool to visualize information into a generator of functionalities. The phrase ′printing beyond color′ aptly sums up this transformation. While this family of printing technologies is still widely used to fulfill visual requirements, its development in the generation of functionality, especially in the field of printed electronics, has resulted in an explosion of new ideas and fabrication approaches leading to lean manufacturing. The basic premise of digital printing, namely the positioning of a liquid (ink) droplet or solid (toner) particle of microscopic volume directly correlated with the presence of information at each pixel of the image or text to be produced, enables the economic deposition of expensive materials, functional or otherwise, only on desired locations on a substrate, that is, a selective deposition.
In this article, one of the most important digital fabrication techniques, inkjet printing, is presented in detail as it is one of the key enabling technologies of printed electronics. In addition to a discussion on the classification of inkjet printing technology, various relevant aspects with respect to materials (inks, substrates) as well as respective pre-processing and post-processing steps are discussed. Finally, a selection of application examples is provided, illustrating the various possibilities of inkjet-printed electronics.
Research and development focusing on functional materials and hightech printing equipments are ongoing, leading to new innovations on a quasi-daily basis.
Conventional Printing
Printing technology is one of the foremost inventions that hastened the progress of humankind by reliable transmission, exchange and preservation of knowledge. Even though Gutenberg′s invention of the letterpress with movable lead type has been in existence for over half a millennium, it has been in the past century, since the evolution of photography as basis for graphic-arts reproduction and more importantly in the past few decades since the dawn of the potent combination of printing and computerized information technology, that the range of printing technologies evolved ramifyingly, leading to their widespread utilization.