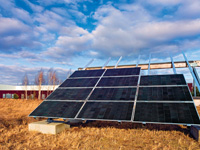 By David Savastano
Editor

First Nanosolar utility panels shipped and deployed in Germany in a free-field plant installation. (Photo credit: Willi Breuer)
As petroleum-based energy costs soar and concerns over the environment as well as sustainability grow, interest in new sources of natural energy is on a rapid ascent, whether it is wind or solar power.
Solar technologies have generated tremendous interest among the public and investors alike, and the allure is understandable: the ability to harness the sun's energy offers unlimited clean power.
The goal, then, is to be able to gather this power efficiently at a reasonable cost. Typically, solar cells are costly, but if a way could be found to mass produce these cells, there could be fast growth in the market. This is where printing comes into play.
It is becoming apparent that flexible thin-film photovoltaic (PV) cells can be used to collect solar energy at a fraction of the cost of present technologies. A wide variety of companies are in the market: United Solar Ovonic (a wholly-owned subsidiary of Energy Conversion Devices Inc.), Global Solar, First Solar, Nanosolar, Konarka, Solopower, HelioVolt, Miasole, Daystar and Evergreen Solar are just a few of the companies in this growing field.
A look at the investments into these companies shows the potential for the field. Nanosolar has received $500 million in funding to date, including investments from leading power companies such as AES Corporation, EDF and the Carlyle Group. Meanwhile, Dow Chemical is partnering with Global Solar.
There is plenty of expansion as well. First Solar announced plans in August to add 500, 000 square feet to its manufacturing and R&D facility in Perrysburg, OH. Global Solar just moved into its new 100, 000 square foot factory in Tucson, AZ.