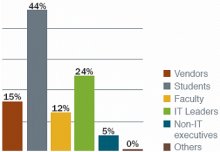 Emerging Tech Challenges
Campus Technology
Who's Pushing New Technologies?
Response to the question "Who do you think is primarily pushing new technologies in higher education?" revealed students as the drivers (44%), but additional polling showed that IT leaders focus on wider institutional priorities even as they react to student expectation and demand.
Challenges What are the challenges surrounding the deployment of emerging technologies?
Participants suggested their own categories, and as a group ranked the following, among other criteria (right): • Impact of technology on learning (30%) • Helping people (faculty, etc.) change (23%) • Keeping up with change (15%) • Changing criteria for evaluating scholarly teaching and learning (5%).
Additional Challenges
In a ranking of "additional" challenges, participants singled out planning for innovation (48%) as the most significant challenge.