An article in by Thomas Heydler (CEO of ) points out several technologies that can change the way the healthcare industry works, stating:
"Unfortunately there is often limited data that allows the doctor to tailor and customize treatment specifically to a patient's biology and lifestyle. But there are five ways technology will change that over the next decade, bringing personalized medicine to fruition."
First, related to what we at iFormBuilder help with, is Correlations and Data Science.
By gathering lots of Big Data, based upon millions (and perhaps billions) of patients' case files, scientists may be able to determine genetic markers that would perhaps predict if a patient will have side effects to a certain medicine, or what dosage may keep a diabetic's blood sugar levels healthy, based upon their bilogical liklihoods. It's like data mining for health!
Also mentioned are:
Advancing Clinical Utility of Genomics - "New technologies that break the bottleneck in analysis and drive clinical utility of additional genes will be crucial to advancing the translation of sequencing to the clinic."
"Datafication" of Tissue - "It will be essential for scientists and clinicians to be able to mine not just DNA, but also extract quantifiable data from images. " By creating visual images off gene structure and tissue, physicians will be able to determine the best treatments, specified to a single patient.
Telemedicine and Biosensors - Doctors will be able to monitor patients' vital signs by accessing related apps in their mobile phone.
Engineering Cells and Printing Organs - Printing? Yes. Nothing will become more personal than the ability to "print" an organ from your own cells. In fact, one physician has already started: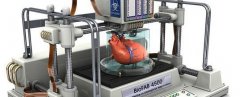 Regenerative medicine pioneer Tony Atala has already printed the first 3-D kidneys and San Diego-based start-up Organovo is working on the 3-D printing of a liver. Initially 3-D tissue prints will be used as models for drug action and safety, but many believe that in 10-15 years 3D printing will enable tissue and organ construction from cells harvested from the patient, providing the ability to produce custom and personalized organs on demand.
3D Bioprinting company and Printerinks created this neat infographics on BioPrinting. It explains pretty clearly how 3D bioprinting works:
Are you ready for a Mobile Data Collection Tool that focuses not on just Big Data, but Unlimited, Smart Data Management? Take advantage of iFormBuilder, the Best Mobile Data Collection Apps for Android and iOS, used by NGOs, Corporations, HealthCare Teams, and Educational Facilities around the world!
See also: