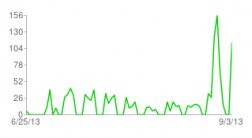 After scurrying through the library trying to hide my coffee cup from students (No food or drinks in the Library!), I met with our Information Systems Librarian and Systems Manager to plan out our projects this year. Here's a selection:
Launch digital collections site (built on Collective Access)
Train web-devvy librarians/staff to use newly-migrated Github repository
Build online instructional library for online-only students
Research and implement reference chat web app
Design and moderate usability study for new Ebsco Discovery Service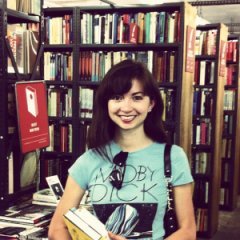 Later in the morning, I got a phone call from another faculty member who attended a Personal Information Management workshop I led last semester. He'd followed up on my recommendation to use Evernote and asked me for some advice on how to use it as an instructor. I'm a huge Evernote evangelist, so I was happy to chat.
I also met quickly with our Freshman & Instructional Services Librarian to plan our Murder Mystery Challenge (above), a new event we're about to try this fall. In it, students will use basic library skills to track down an escaped murderer. Grisly, perhaps, but topical for a criminal justice college—and based on a real 1922 trial transcript held in our Special Collections!
Afternoon: Reference Service
I staffed the Reference Desk for an hour. It's the second week of school, so we've seen a pretty incredible uptick in reference service. Over the summer, I designed and tested a simple web-based logger to track every reference interaction. When I had a moment to breathe, I compiled the stats from last month into a PDF to send around. (Tip: when asking your colleagues to contribute to a data log like this, make sure they get to see the output!) Here's a snapshot of summer and start of school:
Confession: though I went to library school and earned a library science degree, I was actually surprised that I became a librarian. I studied data curation and digital preservation at UIUC, never registering for traditional librarianship courses like reference or instruction. (I did sit through a few sessions of cataloging class in an effort to better understand metadata, but the handouts were uniformly in Comic Sans and Jokerman, so I knew it was not the place for me.)
I was nervous at first to sit at the Reference Desk. But in fact, I really value these few hours a week. I design systems and interfaces for our students—it's just good ethnographic practice to get as much facetime with them as possible! For example, I was stunned at how many students (and, okay, faculty) approach the ref desk with an Amazon page on their smartphone screen. That's an information behavior I wouldn't otherwise know about, but which informs how I design students' user experience.