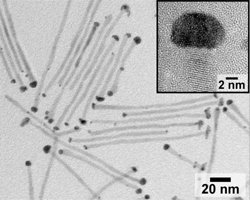 The inherently high surface area of bimetallic nanoparticles makes them especially attractive materials for heterogeneous catalysis. The ability to selectively grow these and other types of nanoparticles on a desired surface is ideal for the fabrication of higher-order nanoscale architectures. However, the growth mechanism for bimetallic nanoparticles on a surface is expected to be quite different than that for free particles in solution. The altered growth process can lead to modulations in stoichiometry, elemental homogeneity, and surface structure, all of which can profoundly affect the catalytic or magnetic properties of the bimetallic nanoparticles. Now, researchers have experimentally observed these subtle structural differences through x-ray absorption spectroscopic studies at ALS Beamline 10.3.2. The results illustrate how directed nanoparticle growth on specific surfaces can lead to hybrid nanomaterials with a structurally different bimetallic component than its unhybridized counterpart.
Transmission electron microscopy (TEM) image of PtCo–CdS hybrid nanostructures, with high-resolution TEM inset.
Platinum-based bimetallic alloys (such as PtNi, PtCo, PtRu, etc.) have been studied in the bulk form for some time and have been found to exhibit vastly different properties than their individual constituent metals. This is particularly true in catalysis, where Pt-based bimetallic alloys have shown enhanced oxygen reduction activity or accelerated rates of alkene hydrogenation. The catalytic activity of these materials is dependent on the surface structure, and although bimetallic materials are rather well understood in the bulk form, the picture becomes less clear when these materials reach nanoscale dimensions.
Additionally, the ability to directly integrate a metallic nanoparticle with a semiconductor structure is highly desirable. The formation of such hierarchical hybrid nanostructures can allow for new properties and applications that are not available with just the individual components. However, until recently, it was unclear what effect surface-directed nanoparticle growth would have on the structure of a bimetallic nanoparticle, particularly on its surface composition.
Using a novel, recently developed synthesis technique, the researchers fabricated hybrid nanostructures consisting of cadmium sulfide (CdS) nanorods with PtCo nanoparticles grown selectively on the nanorod tips. The structure of these hybrid nanomaterials was compared to free-standing PtCo nanoparticles synthesized by conventional solution-phase methods, using a combination of x-ray absorption near-edge structure (XANES) and extended x-ray absorption fine structure (EXAFS) spectroscopies at the Pt L3- and Co K-edges and x-ray diffraction measurements. Because...
pcos pregnancy success stories
academic success
secret of my success cast
success in life
leapfrog leapstart preschool success
success platform pacific college
empty sac at 8 weeks success stories
success spelling
medmen lake success
center for success and independence
plan b success rate during ovulation
success rate of cervical epidural steroid injection
there is no elevator to success
lake success shopping center
reproductive success
how i raised myself from failure to success in selling
what is success
diversifying into new businesses can be considered a success only if it
success in chinese
meru the success
the key to success tarkov
ralph waldo emerson success poem
best morning routine for success
writing for success
mantras for success
success pictures
success pronunciation
vbac success calculator
success quotes
ivf success stories
increase implantation success
deviated septum surgery success rate
gastric sleeve revision success rate
bariatric surgery success rates
hip labral tear surgery success rate
measure of success
success inspirational words
coming off antidepressants success stories
threatened miscarriage success stories
my 600 lb life success stories
success vision paducah ky
palmers skin success fade cream
dj khaled suffering from success
vbac success calculator
our lady of good success novena
success academy videos
gastric sleeve revision success rate
success criterias
success essay
suited for success
sweet smell of success
noom success stories
success academy charter schools
was the new deal a success
how to spell success
lake success zip code
seven spiritual laws of success
mission success
open heart surgery success rate
african american quotes about success
slug success
give and take a revolutionary approach to success
synonym for success
ovulation pain and pregnancy success
gastric bypass revision success rate
motivational quotes for work success
salon success