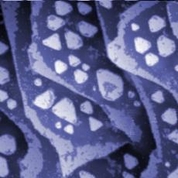 Metallic layered systems, consisting of alternating superconducting and ferromagnetic layers are studied by measurements of the electronical resistance, the magnetic susceptibility and the magneto-optical Kerr effect to investigate the interplay between superconductivity and magnetism.
Thin metallic "bridges" (width down to 40 nm) between two metallic layers can be prepared by nanostructuring methods. At low temperatures, the electronical transport exhibits interference effects due to the coherence of the conduction-electron wave functions. Normal and superconducting bridges are investigated.
Contacts consisting of a few or only one atom can be prepared by breaking and reconnecting nanostructural bridges (width = 100 nm). The current through single atoms is investigated by means of the superconducting proximity effect.