Essence™ Speakers Pioneer Printed Electronics
"Printed electronics" is the term used for a relatively new manufacturing technology that defines the printing of electronic circuits and components on common media such as paper, plastic, Mylar film, and textile, using high resolution graphic arts printing processes and press equipment. But instead of using standard inks, newly developed electronic inks are used to print active devices, such as thin film transistors and thin printed batteries. Although the concept of printed electronics has been around for some time, recent advances in conductive ink chemistry and flexible substrates promise to deliver a flood of new markets and applications.
One such application is the high-end speaker niche. Essence™ manufactures a line of next-generation electrostatic speakers that are flat, transparent, and full-range, the holy grail to many audiophiles around the world. One look at this futuristic design and you know it's very different from any speaker you've ever seen.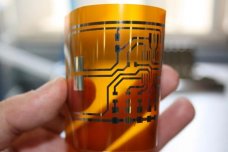 ded with the conductive traces that enable the entire surface to vibrate like a speaker cone. The result is full range sound from a single source. Gone are the bulky cabinets full of woofers, tweeters, and cross-overs, materials that cost a lot of money and use a lot of resources we should think twice about using this way.
The film is transparent; when sandwiched between two perforated sheets of acrylic, the result is transparent and completely see-through. Leading-edge companies are currently using the printed electronics technology to transform basic circuit elements, such as thin-film transistors, resistors, inductors, and capacitors into printed batteries, displays, sensors, RFID tags, interactive packaging, solar panels, and yes, even speakers. Essence™ Audio in The Netherlands is proud to be one of these printed electronics industry pioneers.