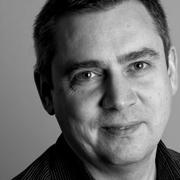 PARC, a Xerox Company, is a pioneer in the development and commercialization of thin film transistors, circuits, and sensors. With a 40 year history of commercial innovation, PARC scientists have a deep knowledge of printing technology applied in domains such as displays, image sensors, and medical sensors, PARC's technical expertise and facility support printed dielectrics, nanoparticle metals, organic, oxide, and silicon (amorphous, polycrystalline, printed nanowire) semiconductors.
Solid State Technology editor Pete Singer caught up with Janos Veres, area manager for printed electronics in the electronic materials and devices laboratory at PARC. Veres' current interests are in combining disruptive material, process, and device technologies — for printed, flexible circuits; sensor and memory arrays; batteries and display devices — all with a focus on early commercialization opportunities. Janos has experience in components such as novel printed circuits, organic transistors, and printable semiconductors; applications such as OLEDs, displays, and RFID; as well as printing/coating technologies including electrophotography, flexography, and offset printing.
Before joining PARC, Veres was the CTO at PolyPhotonix, where he developed radically new process technologies for OLED devices. Prior to that, he worked at Eastman Kodak as their Program Manager of Printed Electronics, and was a Business Research Associate at Merck Chemicals (formerly Avecia) where he led several of the world's first demonstrators built using novel electronic materials. Janos also set up unique pilot production lines for solution coating when he was responsible for Organic Photoreceptor development at Gestetner Byfleet. Dr. Veres holds a Ph.D. in Solid State Electronics from Imperial College in London and an MSc in Physical Electronics with distinction from Lviv Technical University in Ukraine.
Veres said described printed electronics as a relatively new field, with the "early years" being only 10-12 years ago. The focus is on materials that can be formulated as inks and deposited over large areas. This is quite useful for applications such as flexible displays, which was the original focus of the work, and more recently on smart cards and printed tags. Recent progress has printed electronic transistors inching closer to those produced in polysilicon.
"We never believed that they might one day compete with amorphous silicon, " Veres notes. "That's happened and probably 4-5 years ago, we saw that barrier broken. That means we can now take organic materials and achieve the same kind of performance that you see in displays. That progress is carrying on and at the lab level, you can build devices that are now performing better than what amorphous silicon offers. The progress will not stop there. We might see a significant improvement in mobilities at which point devices we build might be competing with polysilicon."